6Qs with Playwright-Actress Jennifer Jajeh //
06.17.11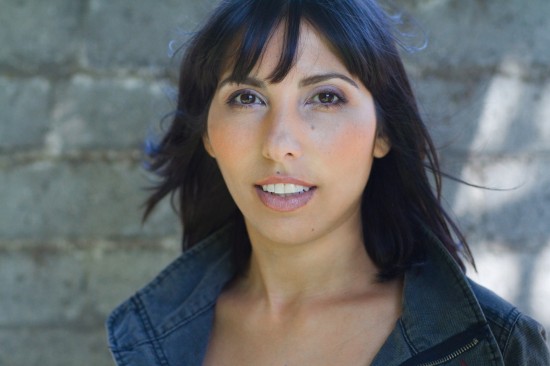 "Tragicomedy" is the word Jennifer Jajeh uses to describe her 90-minute solo performance in "I Heart Hamas," in which she shares her experience of briefly living in Palestine, and the awkward moments brought on by being Palestinian-American, amidst even the most banal of conversations. Jennifer is the author, performer, and producer of the word-of-mouth sensation that has traveled across the United States and made its Los Angeles debut this past February.  "I Heart Hamas" returns to Southern California by popular demand for a six-show run that ends on June 25. The actress-comedienne makes ninety minutes feel like a blink of an eye, leaving the audience full, and yet hungry for more…
STATS
Favorite city: Paris, so far…
Favorite food: Cake
Article of clothing you can't get rid of: That I would tell you about?
1.  Is everything in the play a true-to-life occurrence or event?
The show is completely autobiographical. All of those things have happened to me, and are based on interactions that I've had with people. Only one or two names have been changed. Some of what's in the show actually came from moments that occurred post-show.
2. What was the driving motivation behind making "I Heart Hamas"?
I've been working in this industry for a while, and found the lack of representation frustrating. Some people are looking for escapism and entertainment, while others look for identification. I felt like nothing spoke to me, so, I started writing. I didn't set out to write a show, but through the writing experience, found my story resonated with people because it represents similar thoughts of people who are first or second generation Americans — or anyone whose identity has been shaped by some kind of "otherness."
My motivation was to create work that I felt connected to, and I was amazed when people who are not necessarily Arab or Palestinian, identified with it.
3. The awareness of the term "Palestine," let alone the stories that accompany it,  are slowly inching their way through the entertainment business, and quite often through the roles of women (ex. Miral.) Why do you think this may be, based on your experience?
It's interesting because I have had male audience members tell me, 'I could never get away with telling a story like this.' On one level I find it annoying, as if to say 'I'm an entertainer, so I can get away these things.' But there is some truth to that, and it's exciting. As an American-born Palestinian, …
I understand that being fluent in media and theater, and having access allows me to push further.
It certainly doesn't hurt to have Palestinian women telling their stories. Young, well-spoken, media savvy people — the reality is, those are who will likely have an easier time getting in there and being heard.  It's an amazing power, one I think is important to embrace.
4. What was the process to get this show made, from production down to giving it its title?
It's funny because it's almost like it happened to me. I wrote it and have been working very hard, but on some level, once the writing started it took on a life of its own. As soon as I put my experience in words, it got interest from the New York Fringe Festival, universities, and theaters that wanted to produce or co-produce the show. I don't want to say it was easy because it is a lot of work, but there was interest in the work in a way I hadn't anticipated. It gained momentum from people who helped get the word out, and hooked me up with their networks. I was really lucky that people were so receptive.
5. What has been your favorite memory in your performances so far?
There are a couple of intense things that have happened after shows, when I usually meet, greet, and chit chat with people. I once had a ninety-year-old Holocaust survivor come up to hold my hand, which was really intense.
6. Which actors or comedians do you admire most, and why?
There are a lot of artists I think are great. Performers like Lily Tomlin, Margaret Cho, and Mary Louise Parker, who is amazing onstage. Helen Mirren manages to be sexy and brutally talented in her mid-sixties. My director turned me on to comedian Bill Hicks who is a genius at telling it like it is. And then there are visual and conceptual artists like Sophie Calle, Nikki S. Lee, and Cindy Sherman who shaped my interest in identity and creating visual representations of emotional journeys.
For more about Jennifer, her production and "I Heart Hamas" show times, click here >>
________________________________________________________________________________
About the Author: Born and raised in Southern CA, Lana Daoud can find herself at home just about anywhere. She has a degree in History with a minor in Middle East Studies, and an Alumni Fellow of NewGround: A Muslim-Jewish Partnership For Change. Home is where the next great experience lies, heart belongs to her nieces, roots are in Palestine.