Mizna's Sixth Twin Cities Arab Film Festival //
03.19.10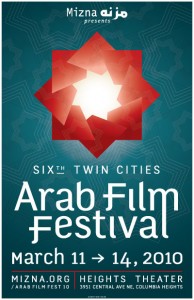 On March 11-14, 2010, Mizna — a Minneapolis, MN based Arab-American arts organization presented its Sixth Twin Cities Arab Film Festival. The festival featured award-winning films originating in Palestine, Egypt, Jordan, Morocco and the United Arab Emirates among many others. "This is a veritable celebration of Arab cinema — it's the longest standing Arab film festival in the nation — this is something that gives us great pride — knowing that it's not in Chicago, or in New York, or Boston, or Toronto — but right here in the Twin Cities," says festival curator Mohannad Ghawanmeh.
"Not only is it a festival that has lasted long, but whose standard continues to improve as evidenced by the quality of films included in this selection — these films were selected for their artistic merit," Ghawanmeh adds. Among the festival's heavy hitters were Mai Iskander's Garbage Dreams, Rashid Masharawi's Laila's Birthday and Najwa Najjar's Pomegranates and Myrrh.
The festival's diverse programming also included new thematic segments, including two segments showcasing works by budding filmmakers from Jordan and the Persian Gulf; a new work by Hisham Bizri, a Minneapolis-based Arab-American filmmaker; and a segment of films for children. "We are offering the highest standard of Arab films," says Ghawanmeh. "They give a fresh outlook on life via windows most people have not looked through." Check out some of the festival highlights in the gallery below.
Photos courtesy K. Flo Razowsky
Mizna Board Chair Rabi'h Nahas on Opening Night
Festival Curator Mohannad Ghawanmeh on Opening Night
Mai Iskander introduces Garbage Dreams on Opening Night
Between screenings