6Qs with Director Karim Fanous //
03.18.10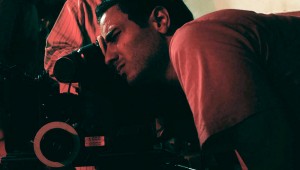 Clean Hands, Dirty Soap Director Karim Fanous tells FEN about how he discovered his love for film…
STATS
Favorite Scent: Sea Water
Best Breakfast: Bacon, Eggs, Baked Beans, Orange Juice & Coffee
First Movie: Peter Pan
1. What makes a film worth making?
Film-making is essentially storytelling. Generally speaking, a film is worth making when you find a compelling story to tell, whether it be character-based or plot-driven.
As a director who interprets another writer's script, I find it essential to be able to connect with the story on some level. This connection could be with something as broad as the underlying theme of the story itself, or with something as specific as a character or even a moment.
2. What is the funniest thing that has happened to you while making a film?
While shooting Alla Fein, my thesis film at the New York Film Academy, the camera operator accidentally broke wind right in the middle of a take. It was towards the end of a relatively tense and dialogue-heavy scene. We had already shot quite a few takes and the actors were getting tired. As soon as they heard the sound, the actors actually paused for a split second and then tried to carry on with the scene. Everyone in the room heard it and tried to pretend that nothing had happened while holding their laughter back, but I couldn't resist.
The cast and crew then went on a laughing spree and although it took another couple of takes before they managed to regain composure, it definitely helped relieve some of the day's stress.
3. How did the story for Clean Hands, Dirty Soap come to you? Did you approach Adam or did he find you?
Adam and I are childhood friends. We'd already worked on a couple of projects together before and were searching for a new concept for a short film. We were at his place re-watching True Romance and when it ended, we both commented on how much we loved the mood of the film, particularly the chemistry between Christian Slater and Patricia Arquette. Adam suggested a story that is based around the day-to-day life of a bathroom attendant, which I instantly found interesting. We proceeded to shoot ideas back and forth until we came up with a treatment.
4. How long have you been making films and how did you get into it?
I have been in the field for over eight years now. While pursuing my Bachelors degree at the American University in Cairo in Economics, I happened to take an elective course in Film History. Throughout the course, I was exposed to a lot of different films that I never had the opportunity to see prior to that. Some of them were brilliant. It was very refreshing to watch films that were not contemporary, mainstream Hollywood blockbusters. The one that absolutely stood out for me was Francois Truffaut's Les 400 Coups. After watching it, I decided to minor in Film. I graduated from AUC in 2002 and got a job at a local production company — Misr International Films. I worked there for a couple of years, mainly as an editor, then traveled to New York to attend the Film Directing course at NYFA. The whole experience there was incredibly rewarding, and I came out of it with my first short film — Alla Fein. Fortunately, the film had a good run on the festival circuit, which gave me the required momentum to pursue further independent projects such as Clean Hands, Dirty Soap.
5. What can we look forward to next? Where can we see your film(s) next?
Adam and I are currently developing a feature-length script, which we hope to finish throughout 2010. Clean Hands, Dirty Soap is still showing at various international film festivals, and should be available for viewing online by the end of the year.
6. If you could work with any actor, who would it be and why?
I can't say that there is one particular actor I would like to work with over all others. I think it would have to depend on the script and the nature of the role. Although, after recently watching Inglourious Basterds, I believe Christoph Waltz could probably interpret any role thrown at him — in any language.